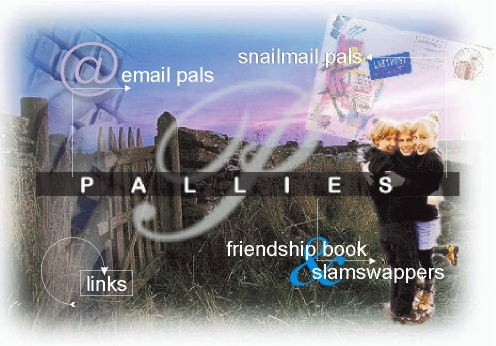 WELCOME TO THE NEW PALLIES !
If you're looking for friends from all over
then you've come to the right place!
Pallies is the place where you can meet people from different countries.
Please be reminded though that
this is not a place for romantic relationships or any obscenities.
Pallies is a FREE site for finding friendships!
SIGN HERE!
Email pallies
FB and Slamswappers
Snail Mail pals

Thank you and enjoy the new PALLIES!

Friends who dropped by
Pallies is releasing its new bi-monthly offline penpal publication, PENNERS!
This magazine will contain a snailmail penpal list and lots of features.
If you want to be listed as a penpal for free, please send your name,
postal address, age, gender, hobbies and interests with the subject heading-"PENNERS"
to PENNERS.
If you want to get a copy of the magazine, send us US $2.00 through snailmail.
Email us for more details.
Hurry and get a copy now!

123Greetings
a Media DesignWorks project